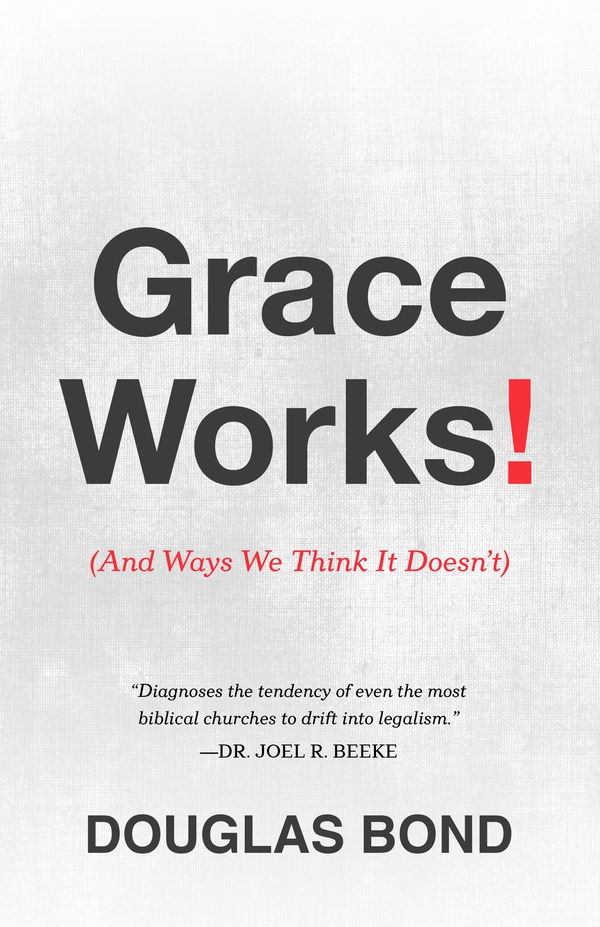 Grace Works!: And Ways We Think It Doesn't
by
Douglas Bond
My rating:
5 of 5 stars
Grace is a big deal! It is also a lightning rod for controversy and attack--even in pulpits, congregations, and denominations that purport to be centered on the good news of God's amazing, sovereign grace. Douglas Bond jumps headfirst into the deep end of grace and shows the reader that grace is, if I might borrow some imagery from John Mark McMillan, an ocean worthy of sinking in.
Bond begins by diagnosing the tendency to abandon grace, for multiple reasons, and the overwhelming likelihood that the reader will see this in themselves, their congregation, or someone of prominence. It can happen to us and, historically speaking, it is more than likely. Bond shows how "law creep" and synergism have affected Reformed congregations and denominations throughout history.
He deals with a number of issues including: the necessity of a proper ordo salutis to minimize the creep of law into the Gospel, the fact that we often sing greater theological truth than we actually articulate, the pushback in Reformed circles on the primacy and centrality of Christ in all the Scriptures, the analogy of faith when interpreting Scripture and the danger of letting that which could be present implicitly erode what is actually present explicitly, and much more.
Bond brings up the dialetic method of interpretation and…well, he left me in the dust with that chapter! While I didn't fully understand how the dialectic method practically works, I agree greatly with Bond that, "(l)ike Paul, we too must renounce any interpretive method—by whatever name—that does violence to the unity of Scripture, that makes the Bible say opposite things, and that facilitates a doctrinal framework that diminishes Christ and his saving faithfulness."
His section on the need and benefits of confessional theology and practice is encouraging and convicting. He guides the reader in looking at the necessity of confessional standards and the hazards of abandoning them for "no Creed but Christ" or whatever we can come up with at breakfast after the evangelism seminar. Bond offers a perfect summary of his position when he quotes a brand new believer, infant in his faith but displaying wisdom beyond many, in saying, "(i)f we just stuck with the old confessions (in reference to the Westminster Standards and the 3 Forms of Unity), the church wouldn't constantly drift away from the Gospel."
This minimization of grace leads directly to the dangerous practice of relegating the Gospel to the unbeliever—that is, treating the Gospel as a springboard into the Christian life that has little-to-no relevance in the life of a believer. It is a gateway or an entry card, but once you are in it is of relatively little importance, other than as a means of helping others to get in. This method of starting the Christian life by grace alone through faith alone and progressing by works of the law is an error that may not often be explicitly articulated, but it is quite often lived and assumed. This is also an error that leads many believers to "live lives of quiet desperation" or grow in arrogant, yet baseless, confidence. In short, it is dangerous if not deadly. And it must be confronted with the truth that the Christian life is "all of grace".
I am glad that Douglas Bond and P&R put this together for those of us who desperately need grace in a world full of consistent and constant forces seeking to, even when well-intentioned, pull us away from this grace we so mightily need. Bond reveals his heart beautifully when he says, "I'll leave the minutia of the theological arguments to the theologians, but I'm far more concerned with what the congregation hears, how words like these [and an overall neglect/opposition to grace] affect the minds and hearts of the flock." Bond's heart is not about academic exercises and trivial controversy. It is about the everyday life of the professing believer who is so quickly driven to despair when overdosed on law and starved of grace. Grace Works! makes a great case that for just that—that grace works!
I received review copy from P&R Publishing through NetGalley to provide a review.
View all my reviews
Grace Works: And Ways We Think It Doesn't
from
Lieren Sinnamon
on
Vimeo
.