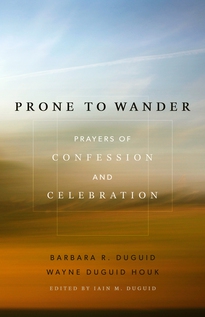 When I first realized that the communion of saints, which I confessed well before I understood, meant that I am united to others in Christ regardless of temporal limitations, that I was in fellowship with believers around the room, around the town, around the world and throughout the ages, I was blown away. To think that, in a very real way, I fellowship with Paul and Peter and John and Aquinas and Augustine and Jerome and Luther and Calvin and Baxter and Spurgeon and countless others whose names I will not know until eternity, is overwhelmingly encouraging and exciting to me. And upon learning this, a treasure that had laid hidden on my bookshelf was revealed for what it is.
When I had read The Valley of Vision and only found examples of prayer, it was neat. It was encouraging. It was a good devotional book. But when I opened those pages and realized that, through the communion of saints in Christ, I had the opportunity to pray with these believers who have now entered into the presence of the Lord, it became so much more than encouraging, so much more than neat. It became, as much as any other non-canonical book I have read, a blessing. To say that I hold The Valley of Vision in high esteem would be stating it rather mildly. So, when I heard that P&R was releasing a book that would be "like the Valley of Vision", I was initially rather skeptical.
But I shouldn't have been. P&R Publishing blesses me over and again with the resources they put out. And when I found out that Barbara Duguid was an author for this project, I became very interested. Duguid wrote a book
(Extravagant Grace
) that ministered greatly to many people, myself not the least. The way God used her to shower the reader in his grace and see to it that the truths of the Gospel invade the deepest and darkest crevices of our remaining sin stirred hope and peace in me that had not been experienced in too long. To say that I had high expectations for Prone to Wander would be stating it rather mildly.
The book is organized by topical prayers. Topics include: forgiveness, doubt, love for enemies, unity, love, and many more. Each prayer is prefaced with a Scripture that is a "Call to Confession". This Scripture is utilized to show us areas of sin in our life. After the perfect requirements of God are laid before us, the authors lead in prayer of confession drenched in theological richness, broken confession, and Gospel hope. After the prayer, an "Assurance of Pardon" is presented in the form of another appropriate Scripture. Then a few hymns are suggested for the reader to respond with in praise through song.
The uses for this work are manifold. I would love to see it implemented in some manner in our small group times or even corporate worship at church. I am eager to use it in family worship and it will get much use in private devotions. One of the benefits to this new release is the fact that it is a new release and the language reflects that. While I love the older language you find in The Valley of Vision, it is charming and just feels pretty, the modern language in Prone to Wander opens it up to greater use in family devotions and community settings where old English is not as well received.
To say that my expectations have been met would be stating it mildly. :-D This gem will be a mainstay in my library and, as importantly, in my "books to give as gifts" list. I have gifted this book out a couple of times already and plan to do so again. I do hope that P&R will release a beautiful leather version like Banner of Truth has done for The Valley of Vision. I would love to have a copy that is as aesthetically breathtaking as the contents are emotionally stirring and spiritually edifying. As it stands, the paperback edition is not bad at all and the contents are altogether amazing.
Sample prayer:
DELIGHT IN THE LORD
CALL TO CONFESSION: PSALM 37:4–8, 39–40
Delight yourself in the Lord, and he will give you the desires of your heart.
Commit your way to the Lord; trust in him, and he will act.
He will bring forth your righteousness as the light, and your justice as the noonday.
Be still before the Lord and wait patiently for him
. . . . . . . . . . . . . . . . . . . . . . . . . . . . . . . .
Refrain from anger, and forsake wrath!
Fret not yourself; it tends only to evil.
. . . . . . . . . . . . . . . . . . . . . . . . . . .
The salvation of the righteous is from the Lord;
he is their stronghold in the time of trouble.
The Lord helps and delivers them
. . . . . . . . . . . . . . . . . . . . . . .
because they take refuge in him.
PRAYER OF CONFESSION
Almighty Lord,
We find great delight in your creation and the good things you have given us to enjoy, but we rarely spend time delighting in you. We tend to enjoy you when you give us what we want, but we become anxious, fretful, and angry when life is hard and you seem unwilling to rescue us from uncomfortable or painful circumstances. We spend many days haunted by guilty fears over the sins that we have committed, forgetting the wounds that will forever scar the hands of your Son, and that plead forgiveness for us every moment of every day. We fail to bear grief and shame patiently, because we forget that you alone are our stronghold in times of trouble, and you are working all things together for our good. Father, forgive us.
We thank you for your radiant and beautiful Son, who delighted in you above all else and perfectly committed all his ways to your sovereign will. We praise you that his flawless obedience is ours through faith, and we are forever reconciled to you as your beloved children. Instead of trying to escape discomfort, Jesus chose the pathway of excruciating pain in order to purchase us. In the tomb he waited patiently for you, trusting in you for his salvation. You delivered him from death, making a showcase of his righteousness and your justice, investing him with great honor and glory. He took refuge in you, and you exalted his name above every other name. Thank you for uniting us to Christ and for loving us in the very same way that you love him.
Father, cause us to find overwhelming delight in the salvation you have given us through Christ. Stir our weak souls to arise and shake off the fearful guilt we cling to with stubborn pride. Open our eyes more and more to see our great High Priest, crushed for us, and now pleading for us before your throne. May we treasure his love and believe with all our hearts that nothing can separate us from it, not even the sin with which we continue to struggle. Give us such great confidence in the gospel that we run joyfully to you in the midst of our weakness, to hear your pardoning voice and feel the ardent and passionate embrace of our true Father. Amen.
ASSURANCE OF PARDON: HEBREWS 10:19–23
Therefore, brothers, since we have confidence to enter the holy places by the blood of Jesus, by the new and living way that he opened for us through the curtain, that is, through his flesh, and since we have a great priest over the house of God, let us draw near with a true heart in full assurance of faith, with our hearts sprinkled clean from an evil conscience and our bodies washed with pure water. Let us hold fast the confession of our hope without wavering, for he who promised is faithful.
HYMNS
"Arise My Soul Arise"
"Be Still, My Soul"
(pages 44-46)
*I received a review copy from the publisher through NetGalley.
From the Publisher's Website:
Sum­mary: "We have left undone those things which we ought to have done; and we have done those things which we ought not to have done." But what are "those things"? Why do we con­fess them?
The pur­pose of con­fess­ing our sins is not sim­ply to remind us what great sin­ners we are, but rather to point us to the great Sav­ior we have. Inspired by the Puri­tan clas­sic The Val­ley of Vision, this book pro­vides spe­cific prayers of con­fes­sion in response to par­tic­u­lar Scrip­ture pas­sages. They are ideal for use in church or in per­sonal devotions.
These prayers thank God for Jesus' per­fect right­eous­ness and sub­sti­tu­tion­ary atone­ment for our sins and ask for the help of the Spirit in pur­su­ing holi­ness. They close with a scrip­tural assur­ance of par­don in Christ for the sins of God's peo­ple. Appen­dices include the hymns ref­er­enced in each prayer, as well as the ser­mon texts that accom­pa­nied these con­fes­sions as they were orig­i­nally used in wor­ship services.
About the Authors:
Bar­bara R. Duguid
is a coun­selor and min­istry assis­tant at Christ Pres­by­ter­ian Church (
ARP
) in Grove City, Penn­syl­va­nia, where she crafts the weekly liturgy. She is a pastor's wife and the mother of six chil­dren, and she holds an advanced cer­tifi­cate in bib­li­cal coun­sel­ing from the Chris­t­ian Coun­sel­ing and Edu­ca­tional Foun­da­tion in Glen­side, Pennsylvania.
Wayne Duguid Houk is the events direc­tor and con­fer­ence plan­ner at Chris­t­ian Coun­sel­ing and Edu­ca­tional Foun­da­tion in Glen­side, Pennsylvania.
Iain M. Duguid
is pro­fes­sor of Old Tes­ta­ment at West­min­ster The­o­log­i­cal Sem­i­nary, Philadel­phia. He has writ­ten numer­ous works of bib­li­cal expo­si­tion, includ­ing
Esther

&

Ruth
and
Daniel
in the Reformed Expos­i­tory Com­men­tary series,
Ezekiel
in the
NIV
Appli­ca­tion Com­men­tary series, and
Num­bers
in the Preach­ing the Word series.
What Others Say About This Book:
"

I find it eas­ier to learn about God than to talk to him. These devo­tion­als and prayers assist me in doing both, with the added ben­e­fit that they inspire me to pray those prayers with others."
— Edward T. Welch, Fac­ulty Mem­ber, Chris­t­ian Coun­sel­ing and Edu­ca­tional Foundation
"

Duguid and Houk show how the heart long­ing for rec­on­cil­i­a­tion with God can find peace and beauty in bib­li­cal con­fes­sion. . . . help[ing] us to face the bit­ter to taste the sweet."
—Bryan Chapell, Senior Pas­tor, Grace Pres­by­ter­ian Church
"

This book has many virtues. One is its flex­i­bil­ity in being adapt­able to a range of sit­u­a­tions, includ­ing pub­lic wor­ship and pri­vate devo­tions. . . . I love its over­all aims and method."
—Leland Ryken, Pro­fes­sor of Eng­lish, Wheaton College


- See more at: http://prpbooks.com/blog/2014/09/new-release-prone-to-wander-by-barbara-duguid-and-wayne-duguid-houk/#sthash.PAtQodPy.dpuf